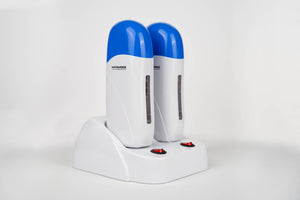 For busy waxing studios, this double warmer enables you to warm two roll-on cartridges simultaneously, so you will always be ready for your next client.
Roll-On waxing is an ultra-hygienic, efficient method that maximizes your time with this speed-waxing system that requires less clean-up than traditional waxing. Perfect for large areas, wax applies in a thin, even, continuous strip, without the need for applicators to cut down on waxing time with less mess to clean up.
Use one cartridge per client, dispose of the used cartridge, sanitize the warmer and you're ready for your next appointment!